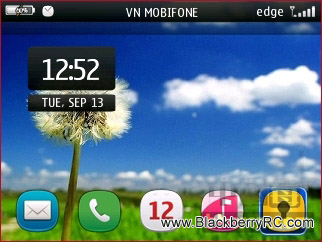 Tag: Symbian ZenAnna
Overview :

Haven't updated the theme OS4.5 for a long time , today the BlackberryRC.com update a small Symbian style theme, fresh, simple, suitable for such model 83xx, 87xx, 88xx and so on, just a few detailed introduce, download and install the theme can know how elegant it is.



This was specifically designed for the 83xx,87xx,88xx series running 4.5

Model:

Blackberry 83XX Series (320*240) Curve Devices Models: 8300, 8310, 8320, 8330 / Blackberry 87XX Series (320*240) Devices Models: 8700c, 8700r, 8700f, 8700g, 8703e, 8707, 8707g, 8707v .etc /Blackberry 88XX Series (320*240) Devices Models: 8800, 8820, 8830 .etc

enjoy!!