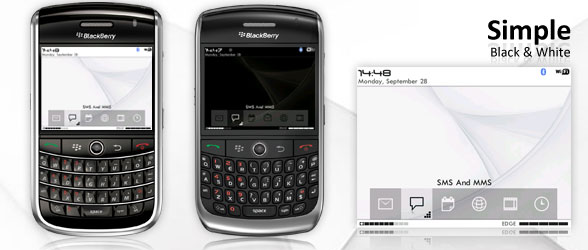 Tag: Black White Simple
Overview :

Haven't recommend the theme of the 87 xx 83xx 88xx such phone model, a designed by HedoneDesign were recommended for everybody today ,Simple theme; Contracted design, friendly wallpaper is the theme of two big luminescent spot, hope you like it.



This was specifically designed for the 83xx,87xx,88xx series running 4.5

Model:

Blackberry 83XX Series (320*240) Curve Devices Models: 8300, 8310, 8320, 8330 / Blackberry 87XX Series (320*240) Devices Models: 8700c, 8700r, 8700f, 8700g, 8703e, 8707, 8707g, 8707v .etc /Blackberry 88XX Series (320*240) Devices Models: 8800, 8820, 8830 .etc

Description:

This new HedoneDesign "Simple Black & White" theme for your BlackBerry is prepared in two options, which will meet both – those that love your BlackBerry in light or dark colors. Pure and clean design of this theme will certainly satisfy your wishes. We also removed all the additional features that could be slowing down your BlackBerry. As can be seen from the screenshots, we create a very precise meters for battery and signal, readable and elegant icons and theme is wallpaper friendly.

IMPORTANT: You MUST have a data plan/internet access on your BlackBerry in order to install themes. 4.5 version themes will NOT work on any device running an older operating system! Also 5.0 version themes will NOT work on device running an older operating system! Be careful when choosing, you choose one you would like to get! Subsequent claims can not be taken into account! Also check screenshots first and then select the theme you want!