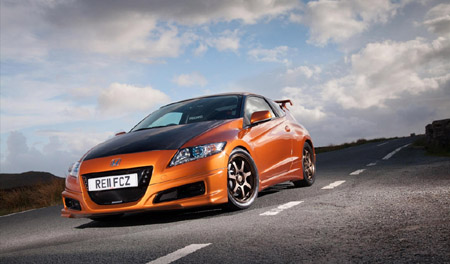 Tag:
Honda
CR Z
Mugen
Overview :
Honda CR Z Mugen 2012 for 1024x600 playbook wallpapers ( 3 wallpapers )
Honda says CR-Z stands for "Compact Renaissance Zero".
The CR-Z is powered by a 1.5-liter four-cylinder gasoline engine, equipped with Honda's Integrated Motor Assist hybrid technology. Accordance with the exposure of the brochure, this gasoline engine output of 114 horsepower, and can match the incentive to improve the motor 14 horsepower. Combined torque output is raised to 164 pounds - feet. And other existing hybrid Honda different, this CR-Z will provide a 6-speed manual transmission to meet the fanatical fans. Also offers a 6-speed automatic transmission for consumer choice. Brochure based on the data, this CR-Z in 9.7 seconds to accelerate from zero to 60 miles / hour. The CR-Z's interior design continues the "high tech and dynamic" design style, the most prominent is the use of a very futuristic instrument panel. The CR-Z based on a scale of cluster of different driving modes (Econ, Normal and Sport) can be issued in three different colors of light. The CR-Z's interior design is very light and spacious, with a lot of mesh-like material.