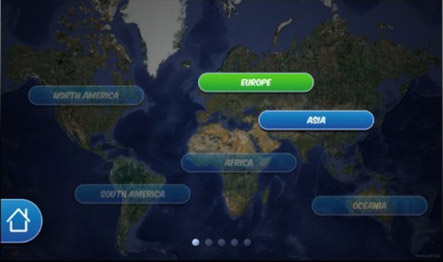 Tag:
GeoGenius
Overview :
GeoGenius HD v3.0 for blackberry playbook games
Required Device Software:
Tablet: 1.0.0 or higher

Description:
GeoGenius HD is a country guessing game.
It requires a working WiFi-connection to play!
GeoGenius HD offers three different modes:
Training:
This is an infinite game where you have to guess random countries.
Singleplayer:
There are 5 levels. In each level you first have to guess within the continents and then prove yourself in a global challenge.
It starts off with really easy countries, but gets harder with each level.
Multiplayer:
You can play with up to 4 players on one PlayBook with three different difficulties to choose from.
Speed and accuracy always matters!
It also includes:
- 200 countries and their flags
- a beautiful interface
- sounds
I recommend it highly to everyone who likes geography and to everyone who is bad at it (that would be me) and always wanted to improve their skills.
Tags: earth, world, quiz, country, countries, fun, continent, map, Multiplayer, singleplayer