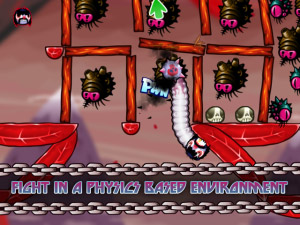 Tag:
Ironworm
10tons
Overview :
Ironworm v1.1 for playbook games
Required Device Software:
Tablet: 2.0.0 or higher

Description:
Ironworm, the toughest and stretchiest hero this side of Skull Peaks, is about to kick some bug behind!
An epic war waged against the bugs for decades is about to culminate in a final showdown. A massive horde of buzzing enemies stands in Ironworm's way. Some will mercilessly home in on the squishy hero, others will shoot from a distance Some will explode in his face! As Ironworm, you must rely on your spiky tail and fight your way towards the final challenge: The villainous Boss Bug himself.
- 30 increasingly challenging levels to conquer
- Engaging physics based gameplay
- Swarms of brutal enemy bugs
- Iron riveted attitude
- Awesome guitar soundtrack