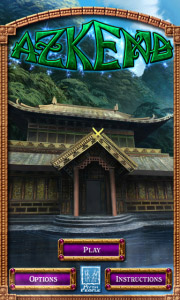 Tag:
PlayBook
Azkend
Overview :
Azkend v1.2.2 for blackberry playbook games
Required Device Software:
Tablet: 2.0.0 or higher
Description:
Enjoy the visions from the mystical world of Azkend - A puzzle game polished to perfection.
Azkend is the first title in the hit Azkend series, be sure to check out the sequel Azkend 2: The World Beneath!
FEATURES
- Familiar match-3 gameplay with a now classic Azkend twist
- Captivating story
- Powerful talismans
- Beautiful hand drawn sceneries
- Stunning visual effects
REVIEWS
"Azkend is a Puzzle Game Polished to Near Perfection"
-AppCraver

"Azkend is a very well-designed game that will keep you coming back for more."
-appChatter
STORY
The relic your archaeological team found in Far Asia was more powerful than you thought. Now your mission is to reach the Temple of Time and return the Relic to lift the curse. Earn all the powerful talismans and unleash their powers to aid your quest.
You will come across breathtaking sceneries on your journey. The rich and relaxing atmosphere will draw you in and immerse you. Step into the exciting world of Azkend!
INSTRUCTIONS
- Drag your finger on the board to make matches and destroy the tiles