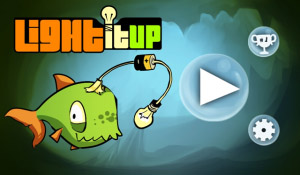 Tag:
Light it Up
Overview :
Light it Up! ( US$0.99 ) for playbook games
Required Device Software:
Tablet: 1.0.0 or higher
Description:
The cleverest fish in the sea has just developed a new invention to light up the deepest part of the ocean: a lamp that is connected to his head! But in order to keep the light on, he needs to collect the batteries that are all over the ocean. Help him to keep the light on, avoiding the obstacles and enemies that appear along the way, collecting the power ups to help you go as further as you can!

Try it, you won't regret it!