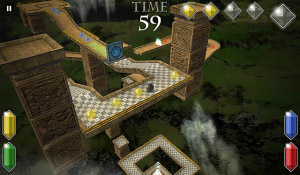 Tag:
PlayBook
Chromasphere
Overview :
Chromasphere v1.0.4101 for playbook games download
Required Device Software:
Tablet: 2.0.0 or higher
Description:
ChromaSphere is a full 3D action/arcade game with a hint of puzzle for the BlackBerry PlayBook. Using the accelerometer/gyro, steer the chromasphere to the end of the level within the bronze, silver and gold times to win medals. Can you beat the challenge of getting gold medals on every level?
******** This is a Beta Version and incomplete at this time. Some features are still being implemented and current levels will be subject to change. Be sure to check for updates regularly, new levels and features will be added all the time. *********
* Roll a Chromasphere using tilt controls and full 3d physics engine!
* Get to the end of each 3d level within the bronze, silver and gold times to win medals!
* Pit yourself against your last best time with the "ghost" replay mode: an easy way to improve your skills!
* Complete 19 3d Levels with many more to come!
* Collect 4 colored shards to activate the Chromasphere colors and open colored doors, activate colored switches and cross colored bridges!
* Moving and rotating platforms! Plus more obstacles to come!
* Touch-based Camera Controls: Swipe the screen left and right to move the camera. Pinch the screen in and out to zoom in and out.
If you love games like Marble Madness or Super Monkey Ball you'll love this!
Keep this game updated - New features and levels will be appearing regularly!
Graphics improvements, more music and sound effects are planned soon!
Try it, you won't regret it!