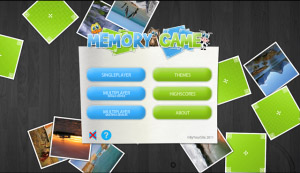 Tag:
multiple
Memory Game
devices
Overview :
free Memory Game - for multiple devices for blackberry playbook games download
Required Device Software: 1.0.0 or higher
Version: 1.0.8
Description:
This Memory Game is an experience unlike any other out there!
Flip over the cards and find the matching pairs!
Choose your own visual style by choosing from the many themes we've put together for you!
Play now also with multiple players! Great to enjoy with your children or friends, suited for all ages!
Choose the difficulty setting that best fits your play style.
Features
- 5 great themes
- Multiplayer functionality
- Rewarding score point system
- Wi-fi multiplayer option (beta) for multiple devices
* Attention: GPU acceleration has been turned off. We are currently waiting for an update of Adobe Air to solve some rendering issues we encountered with GPU acceleration. Due to this, the visual performance might be constricted.