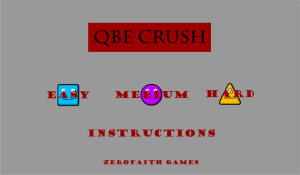 Tag:
Crush
QBE
Overview :
QBE Crush v1.1.0.1 for blackberry playbook games download
Required Device Software: 1.0.0 or higher
Description:
**May 21, 2011 - New version has been submitted for approval and will be released soon, new levels & characters have been added**
QBE Crush is a simple target crushing game. The objective is to crush QBE (pronounced Cube) as many times as possible in 10 seconds.
Watch for future updates, which will add levels, more QBE's, more targets, more timers, more everything.
If you like the game and would like more updates please review the app and Facebook us and let us know what you would like to see in future releases.
Follow us on Twitter: @zerofaithgames
Follow us on Facebook: zerofaithgames