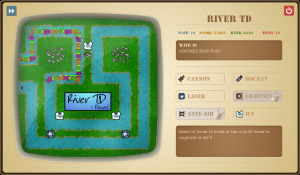 Tag:
Defense
Station
Overview :
Supported Devices: BlackBerry PlayBook
Required Device Software: 1.0.0 or higher
Details: To celebrate the launch of the BlackBerry® PlayBook™ Defense Station is on special at 99c, get it while it's hot!
---
We made Defense Station because we believe that the Tower Defense genre is perfect for mobile devices. We believe that gaming on the BlackBerry® PlayBook™ should be intuitive, long lasting and most of all fun. With this in mind Defense Station features:
- 4 unique landscapes to battle on, each with their own advantages and twists
- 50 waves of "creeps" per landscape
- Easy to use user interface tailored to the tablet
- Gameplay that fits the cliche "easy to learn, hard to master"
Work your way up from the relaxing River TD to the epic MOONSTROSITY with four waves of enemies that have four times the health!
If you have any questions or suggestions drop by our blog @ http://ironshod.co.nz/blog/ or flick us an email.