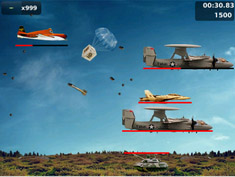 Tag:
Attack Plane
Overview :
free Attack Plane – 2 v1.0.7 for blackberry 99xx games
"Attack Plane 2″ is a engaging fast paced game with an amazing colorful design. There are 2 game modes:
Map story
Make a career as a pilot – serve your way from Airman Basic to Chief Master Sergeant of the Air Force. Pass 5 locations with 10 levels and a boss level on each. Catch bonuses – they will help you in the battle. To pass the level you must not only annihilate the enemies but land the plane as well.
Survival mode
Your main objective – to score as much points as you can.
Features:
- 2 game modes
- 5 locations
- 50 levels
- 5 boss levels
- Well-engineering behavior of enemies
- Different types of weapons (bullets, bombs, rockets, multishot)
- Customizable controls
"Attack Plane 2″ can be used by people of all ages, who likes to play dynamic games on their smartphones.

Version: 1.0.7
File Size: 2 MB
Required: BlackBerry Device with Screen Resolution 640 x 480 (9900, 9930, 9981)

enjoy..