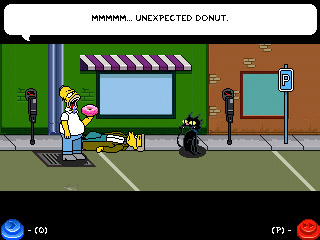 Tag:
Simpsons
Overview :
The Simpsons Arcade v1.0.0 (FREE Trial)
Required Device Software:
Smartphone: 4.5.0 or higher

Description:
Try and Play for FREE! This is a trial game, which allows you to play the game once for 4 minutes.
GET READY FOR DOUGHNUT-CHASING DAREDEVILTRY ON YOUR MOBILE. MMM...CLASSIC ARCADE GAME ACTION. Join Homer on a hilarious chase through Springfield in drooling pursuit of frosted fried dough. Clueless and hungry, Homer has no idea his doughnut is the key to a devious scheme by Mr. Burns. Race through 6 levels as Burns' crew tracks Homer before the plan is exposed...or EATEN! Run into favorite characters like Krusty, Bumblebee Man & The Rich Texan! "Doughnuts. Is there anything they can't do?"