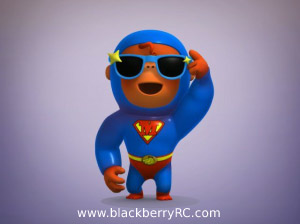 Tag:
9790 games
Talking
Monkey
Overview :
Produced a similar talking Tom the cat game, mmmooo is not bad Oh, to support the recording and a variety of facial expressions effect.
size: 5.57 MB
model: Curve 8900, Curve 8910, Curve 8980, Bold 9000, Tour 9630, Bold 9650, Bold 9700, Bold 9780, Bold 9788, Curve 9350, Curve 9360, Curve 9370, Bold 9790
Description:
The Perfect Talking Kind App is coming for your BlackBerry Smartphone... And FREE forever!
★★Promotion: Please write your reviews at App World, and then email us with your phone PIN and Talking Monkey at Subject, we will help you to activate the app for FREE forever!
Talking Monkey - Pipa is a very very CUTE monkey based on 3D, Touch him, beat him, talking to him and see what happen. You may still remember our super app "Pet Elf", then for this one, you will surely love it as well !!
Features:
1. Cute, absolute cute! 4 original cool animations...
2. Each pose(happy, angry, kiss...) based on 3D, could be played smoothly;
3. Smart to repeat your words;
4. All children love Pipa.
How to make him repeat your words:
At the right bottom, there is a microphone icon, press it, and when it turns to green, please speak to him, and then press the icon once again, he will repeat.
***Please, the app doesn't auto voice recording and funny play due to system limits, hope you can understand and do not leave negative review for this... :)
Guarantee satisfaction:
If you find a bug or have a feedback, kindly write email to us, we can assist you well or provide revision asap, because we could not reply App World Reviews. Let's make a great app together! :)



If you like the game, Please share to your friends!