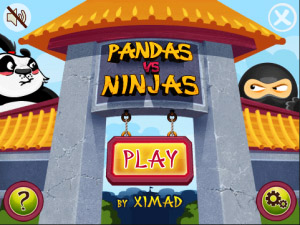 Tag:
99xx games
9810 games
Ninjas
Pandas
Overview :
Pandas vs Ninjas v1.5.2 for 9810,99xx games (640x480)
OS 7.0
size: 11.54 MB
model: Torch 2 9810, Bold 9900/9930, 9981

Description:
SALE… get the Premium version of this inspiring game with all levels ABSOLUTELY FREE!
Ninja Shooter, Ninja Breakout.. and.. Pandas vs Ninjas!
This game available now on BlackBerry® App World™!
Enjoy Pandas vs Ninjas Free with the following features:
- Excellent animated graphics with brave characters
- Beautiful sounds
Let the fight begin!
Help Pandas to defeat Ninjas in this fun and innovative physics-based game!
Defend Pandas' homeland by fighting Ninja invaders and destroying their camps.
Enjoy highly addictive gameplay and realistic physics simulation!

hope you like this game.