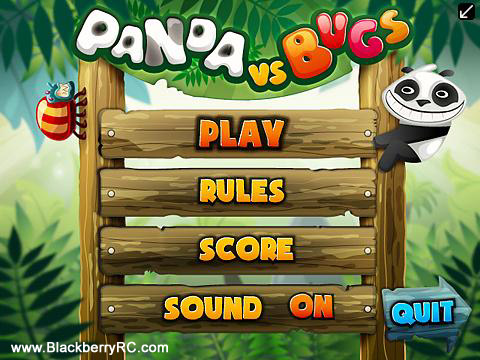 Tag:
Panda
Bugs
9790 games
89xx games
Overview :
free Panda vs Bugs v1.0.4 for BB 480x360 games
size: 3.19M
Model: blackberry Curve 8900, Curve 8910, Curve 8980, Tour 9630, Bold 9650, Bold 9700, Bold 9780, Bold 9788, 9790

Description:
You have never seen a game like this before!!! Brand new Idea! Brand New Graphics! Brand new Addiction!!!
Sunny day… Green Forest … Lovely Panda, enjoying the life… and … BUGS, BUGS, BUGS!
Bugs climb the trees all the time. Bugs try to sting the Lovely Panda. They appear from nowhere with the only aim – to hurt. But our Panda is not a weakling! Our Panda is a true warrior!
Do you want to know how to help the lovely animal?
Here you go!
The principles of the game are the following:
- Panda can try to escape from bugs, it can move from tree to tree and from one side of the trunk to another. If it is above the insects a player can make it slide down and kill the bugs with Panda's bottom.
- A player should keep in mind that the number of bugs and their speed is growing all the time!!!
- Every killed bug brings a point, but if a bug manages to sting Panda, it will fall down from a tree and a player will lose one life.

FEATURES:
- ORIGINAL IDEA;
- EXCEPTIONAL GRAPHICS;
- EXCELLENT ANIMATION;
- FUNNY SOUND.
Help Panda, clean the forest from Bugs! =)
***** Have Fun! *****
If you like this app - please leave a good review. If you don't like it, please contact us first and we will be able to fix your problem for you!
~~ With Love, Your TSV =) ~~