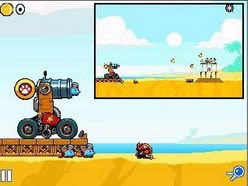 Tag:
8800 games
Cannon
Rats
Overview :
free Cannon Rats games for blackberry
Model:
Blackberry 8350i (320*240) Related Devices Model: 8500, 8520, 8530, 9300(Kepler), 9330/Blackberry 83XX Series (320*240) Curve Devices Models: 8300, 8310, 8320, 8330 / Blackberry 87XX Series (320*240) Devices Models: 8700c, 8700r, 8700f, 8700g, 8703e, 8707, 8707g, 8707v .etc /Blackberry 88XX Series (320*240) Devices Models: 8800, 8820, 8830 .etc
Description:
The only puzzle action game of its kind on mobile phones. Launch these rat raiders to break through obstacles and defeat the Tribal Cats! Uncover treasure in 6 locations including the Beach, Ruins and onboard the Pirate Ship. Each location has 16 levels and its own boss to fight, but with 6 different rats at your disposal - Basic, Splitter, Saw Blade, Quake, Exploder and Jumper - you have all the tricks you need to overcome. Remember, your ammo is limited, so plan each shot carefully or you'll be walkin' the plank!
* 90 levels in 6 locations, each with its own appealing atmosphere like the Beach, Ruins & Pirate Ship
* The easy-to-learn gameplay makes the most of your touch screen, but also works with regular phones.
* 6 kinds of Cannon Rats are at your disposal, all very cute and with different abilities
* Get hooked on the addictive puzzle action, charming atmosphere and fun storyline
* Perfect bite-sized stages for short play sessions, but still able to keep you entertained for hours