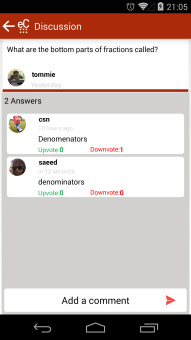 Tag:
eCampus
Overview :
free eCampus for bb classic, passport, leap apps
eCampus is an on-demand exams / test preparation and self-paced education platform. With a simple user-friendly user interface (UI) and user experience that is capable of improving retention and recall rates by 95%.
The user controls the learning process and can choose which topics or sub-topics to learn with hints and reminders generated by the system based on the learners performance and challenges identified during the learning process.
The app displays contents in variety of formats that helps stimulate different sectors / sections of the human brain.
Features
- Read text
- Listen to podcast and audio books
- Watch videos
- Practice with sample and past questions using test engine.
- Discuss to learn from expects and teach to others
- Upvote and Downvote comments and content
- Calendar for events / activity management
- Paper trial of recent topics learnt
- Flexible user profile management
- Performance based point earning for cumulative assessment
- Push notifications
Benefits
- Learn at your own pace
- Increase your retention by 90%
- Improve your test scores by 90%
- Take your classroom with you everywhere you go
- Win prizes with points earned whiles learning
Supported Devices:
BlackBerry Classic
BlackBerry Leap
BlackBerry Passport
BlackBerry Q10
BlackBerry Q5
BlackBerry Z10
BlackBerry Z3
BlackBerry Z30
PlayBook
Porsche Design P9982
Porsche Design P9983