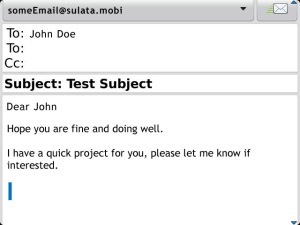 Tag:
TimelySnippe
Overview :
TimelySnippet v1.5 - Text Snippet Library for Your BlackBerry
File Size: 55 KB
Model:
Blackberry 82XX Series (240*320) Pearl Flip Devices Models: 8200, 8220, 8230/Blackberry 8350i (320*240) Related Devices Model: 8500, 8520, 8530, 9300(Kepler), 9320, 9330, 9350, 9360, 9370/Blackberry 83XX Series (320*240) Curve Devices Models: 8300, 8310, 8320, 8330 / Blackberry 87XX Series (320*240) Devices Models: 8700c, 8700r, 8700f, 8700g, 8703e, 8707, 8707g, 8707v .etc /Blackberry 88XX Series (320*240) Devices Models: 8800, 8820, 8830 .etc /Blackberry 89XX Curve Series (480*360): 8900(Javelin), 8910(Atlas), 8930, 8950, 8980/Blackberry 90XX Bold (Onyx) Series (480*320) Devices Models: 9000, 9020(Onyx)/Blackberry 96XX Tour (Niagara) Series (480*360):9600, 9630, 9650(Tour2), 9700(Bold2), 9780, Dakota, Apollo /Blackberry 95XX Storm Series (360*480):9500, 9510, 9520, 9530, 9550(Storm2), 9570(Storm3), 9800(Torch), Torch2/Blackberry Pearl 3G Series (360*400) Devices Models: 9100, 9105, 9670(Style)/Blackberry 99XX (OS 7.0) Series (640*480) Devices Models: 9900, 9930, 9981

Description:
In our daily BlackBerry® usage, there are several occasions when we need to use a text repeatedly. For instance, in our emails, we usually use a word "Best Regards", so would it not be nice if we can create a snippet for the word "Best Regards".
Whenever we need to use it, we just click the BlackBerry® option button and select "Insert TimelySnippet" menu option. This pops-up a window with our saved snippets. We then click on the "Best Regards" snippet and use it at the cursor point.
Well, this is what TimelySnippet for BlackBerry® does!
The screenshots below is a visual guide on how TimelySnippet works.