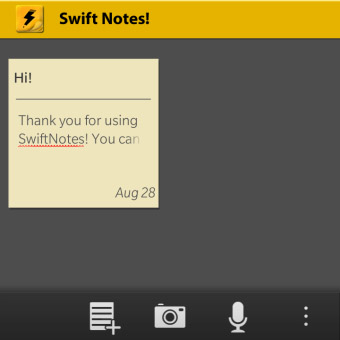 Tag: Notes swift
Overview :
Notes notepad form, function better to own Remember (integrated international edition Evernote) powerful, but the interface is very beautiful, open fast. Also supports text, voice, image form, just remember up to seven, with the mind fit with the deletion.



Supported Devices:

BlackBerry Q10

BlackBerry Q5

BlackBerry Z10

BlackBerry Z3

BlackBerry Z30

Porsche Design P9982

Description:

Swift Notes! is a simple and lightning fast note taking application for your Smart Phone. Swift Notes! can make a text note, record an audio file and add multiple Photo or picture. You can do all of it swiftly! Try Swift Notes now! It's free, it's fast, It's Swift Notes!