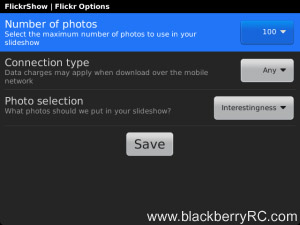 Tag:
9800 apps
9930 apps
FlickrShow
Overview :
FlickrShow v2.0.0 for blackberry os5.0,6.0,7.0 apps
size: 1.36 MB
model: Pearl 9100 3G, Pearl 9105 3G, Curve 8520, Curve 8530, Curve 8900, Curve 8910, Curve 8980, Bold 9000, Curve 9300 3G, Curve 9330 3G, Tour 9630, Bold 9650, Style 9670, Bold 9700, Bold 9780, Bold 9788, Curve 9350, Curve 9360, Curve 9370, Storm 9500/9530, Storm2 9550/9520, Torch 9850/9860, Torch 9800, Curve 9380, Bold 9790, Torch 2 9810, Bold 9900/9930, 9981
Description:
FlickrShow (formerly Screen Charger) turns your BlackBerry® into an awesome Flickr slideshow the moment you plug it in!
Replace that boring old clock with ANYTHING from Flickr! Pics by Interestingness, by User, Custom Tags and even by Location - it's all up to YOU!
The app includes a small Battery Meter and Clock on either side of the display, which can be turned on and off at the click of a button.
Additional Options:
★ Choose between 10-100 pics per cycle
★ Slideshow Timeout - select how long to display the slideshow
★ Send to a Friend - show some love and recommend FlickrShow to your friends
★ Unlock - upgrade to full version ($1.99) and use YOUR OWN PHOTOS in the slideshow!
Pro Tips:
★ Set the "Enable slideshow" option so that your BlackBerry® automatically launches FlickrShow upon charging
★ Set to "WiFi Only" if you only want the app to work when using WiFi connection
★ Power sources can include USB cable, car charger, wall charger, etc.
★ Set your BlackBerry® on a charging station to really show off your Flickr pics
★ Slideshow can also be launched directly with no power source by selecting the app icon itself from your BlackBerry® desktop and clicking "Start Slideshow" at the bottom of the screen



Come on, download this apps for your phone.