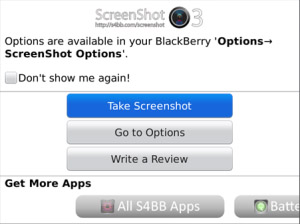 Tag:
s4bb
9900 apps
Screen Shot
Overview :
Screen Shot v3.0.10 by s4bb ★ Capture and grab what shows on your display
OS 4.5-7.0
size: 190 kb
model: 81xx, 83xx, 85xx, 87xx, 88xx, 89xx, 90xx, 91xx, 93xx, 95xx, 96xx, 97xx, 98xx, 99xx

Description:
With ScreenShot you can take a screen shot of your current BlackBerry® screen with just one click. This is a BBM™ Connected application.
Features:
★ Takes a screen shot of your device and stores it on the SD card or device memory (if SD card is not available).
★ Share screen shots via BBM™, send by email, or queue them for sending via email.
★ You may assign ScreenShot to one of the convenience keys. Then from any screen, you may press the convenience key and the screen shot will be saved.
★ Supported Image Formats: PNG, JPG, BMP, GIF, TIFF, WBMP.
How to use ScreenShot:
★ Click the ScreenShot icon.
★ ScreenShot will now take a screen shot of your current BlackBerry® screen.
★ Screen shot image is stored in "Pictures" directory on your SD card (or internal BlackBerry® memory if the SD card is not available, i.e. device is connected to computer or there is not SD card installed)
★ The BlackBerry® will vibrate once saving is completed.
Options:
★ Accessible via "BlackBerry® Options" - "ScreenShot Options".
★ Selectable "screen taken" notification: dialog, sound, vibration.
★ Adjustable delay before screen shot is taken.
★ File name conventions: custom prefix and suffix, current date and time can be added to the file name automatically.
★ Automatic directory detection.
★ Manual directory setting: i.e. screen shots can be stored in "media card - myVeryOwnScreenShots".
This product comes with a 30 day value back guarantee. More info: http://s4bb.com/returnpolicy.

come on, download enjoy this applications.