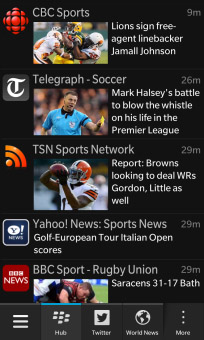 Tag:
RSS Savvy
Overview :
Touches do not use an RSS reader, but on the phone with a PC that can save traffic, the key is more convenient. The free version features a slightly weak point, but almost enough, just feeds the backup feature requires paid version only, this feature is very important for children brush regularly. Fortunately, however, the feed system to add functionality into the browser address the basic need keyboarding lose.
Supported Devices:
BlackBerry Q10
BlackBerry Q5
BlackBerry Z10
BlackBerry Z3
BlackBerry Z30
Porsche Design P9982
Description:
An RSS Feed Reader, Aggregator and Organizer, RSS Savvy is an easy way to pull together and organize all your RSS and Atom feeds.
Features include:
- Rich, snappy UI combines photos and headlines.
- Share your favorite articles on Facebook, Twitter, Email, BBM and others.
- Organize your feeds across any number of configurable tabs to group information in a way that makes sense to you.
- "Reader Mode" strips adverts and pop-ups, and makes easy reading.
- Mark-read support, unread counts, mark-tab-read.
- Expand items in place to reveal more.
- Full article viewing in app - no more hopping in and out of the browser as with other apps.
- Add feeds directly from the browser (long press URLs anywhere on the device and share them to RSS Savvy)
- Choose from our extensive live Catalog of feeds.
- Enter a web page and we'll scan it for feeds for you.
- Or, perhaps you'll be happy with the default set of subscriptions that cover World News, Sport, Technology, Entertainment, Business and more...
- Search bar filters articles as fast as you can type.
- Swipe down to refresh all, pull-to-refresh active tab.
- Import OPML from Feedly, Google Reader etc.
- Choose a light or dark theme.
- Native, fluid, not an Android port.
Upgrade to FeedMinder to support development and enjoy these additional features…
- Twitter integration - combine all your Twitter and RSS feeds like the Social Feeds app on BBOS.
- Hub Notifications, Polling, Active Frames, Priority Hub.
- Type once and post simultaneously to Facebook, Twitter and BBM.
- Import/export (back-up/restore/share) subscriptions, settings, preferences.
- Drill-down on Tweets, follow/unfollow, view hashtag searches, retweet, reply.
- Configure rules to only be notified of specific topics, friends or feeds so notifications don't become a nuisance.