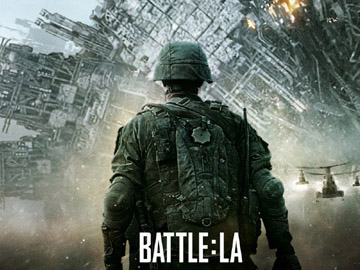 Tag:
Battle
360x400
Los Angeles
Overview :
Battle: Los Angeles(2011) [5 Wallpapers]
Compatible Devices :
Model: Blackberry Pearl 3G 9100 , 9105 wallpapers

Battle: Los Angeles (2011)
Genre: Action/Adventure and Science Fiction/Fantasy
Starring: Aaron Eckhart, Bridget Moynahan, Michelle Rodriguez, Michael Pena, Adetokumboh M Cormack
Director: Jonathan Liebesman
Produced by: Ori Marmur, Neal H. Moritz, Jeffrey Chernov
Running Time: 1 hr. 56 min.
Release Date: March 11th, 2011 (wide)
Distributors: Sony Pictures Releasing
MPAA Rating: PG-13 for sustained and intense sequences of war violence and destruction, and for language.
Plot:
For years, there have been documented cases of UFO sightings around the world — Buenos Aires, Seoul, France, Germany, China. But in 2011, what were once just sightings will become a terrifying reality when Earth is attacked by unknown forces. As people everywhere watch the world's great cities fall, Los Angeles becomes the last stand for mankind in a battle no one expected. It's up to a Marine staff sergeant and his new platoon to draw a line in the sand as they take on an enemy unlike any they've ever encountered before.