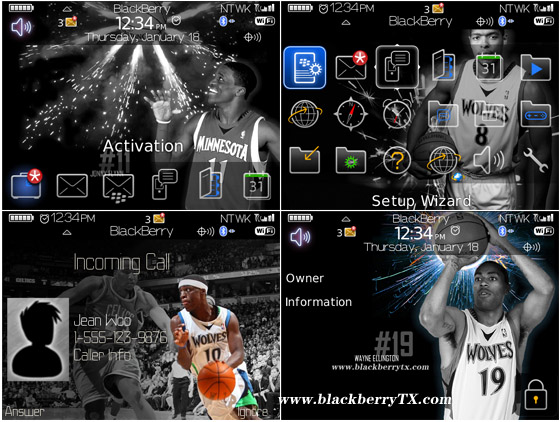 Tag:
bold
Minnesota
Timberwolves
Overview :
Minnesota Timberwolves 90xx os4.6 themes
Compatible Devices :
Model: Blackberry 90XX Bold (Onyx) Series (480*320) Devices Models: 9000, 9020(Onyx)

NBA League West division teams. Built in 1987, 1989, into the NBA. Minnesota had the Los Angeles Lakers base, so fans of the Minnesota Timberwolves from the beginning full of hope. However, the reality could not help but let them down, over successive season, the team into the NBA playoffs them not. Although the team has several players to replace rookie coach and recruiting, it is still difficult to change the fate of the team reduced to bottom. They made the most important decision is selected Kevin Garnett in 1995, but the talented high school students have never been able to lead the team reached the peak, in 2007 and had to leave eventually, joining the Celtics, Minnesota began to rebuild.