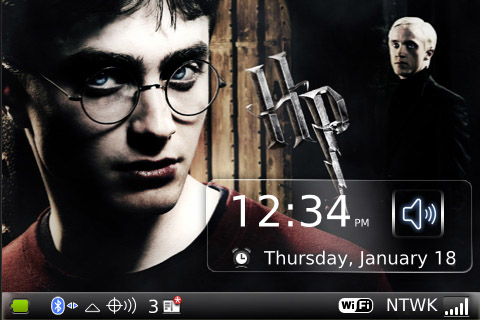 Tag:
bold
9000 themes
Harry Potter
Overview :
free Harry Potter 7 for 9000 os4.6 themes download
About Harry Potter and the Deathly Hallows
Harry Potter and the Deathly Hallows is British writer J.K. rowling creation of the Harry Potter novels, but also the first 7 of this series of the end of the article. According to the novel content, in the war against voldemort, there will be more than fifty is evil villians death, at the beginning of the story, the dark Lord voldemort self-fulfilled, called vassels death eaters in malfoy family planning meeting, how thoroughly solve the harry potter in anorexic with suffering. Voldemort spot executed conquests hogwarts college muggle studies professor, feeding his giant serpent nagini, for he invades the ministry of magic and hogwarts college kick off.

Compatible Devices:
Blackberry 90XX Bold (Onyx) Series (480*320) Devices Models: 9000, 9020(Onyx)