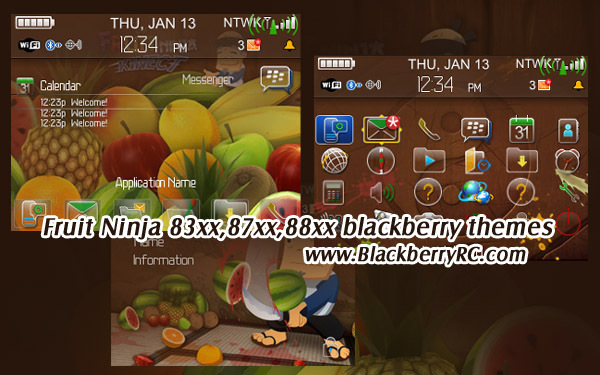 Tag:
Fruit
curve
Ninja
8310 theme
Overview :
free Fruit Ninja 83xx,87xx,88xx themes for blackberry os4.5 style is carefully design by BlackberryRC.com, Hope you will like it. It is suitable for OS 6.0.0 for pearl 91xx, 9670 series.
Model:
Blackberry 83XX Series (320*240) Curve Devices Models: 8300, 8310, 8320, 8330 / Blackberry 87XX Series (320*240) Devices Models: 8700c, 8700r, 8700f, 8700g, 8703e, 8707, 8707g, 8707v .etc /Blackberry 88XX Series (320*240) Devices Models: 8800, 8820, 8830 .etc
about Fruit Ninja:
What is a Fruit Ninja?
Swipe your finger across the screen to deliciously slash and splatter fruit like a true ninja warrior. Be careful of bombs - they are explosive to touch and will put a swift end to your juicy adventure!
Fruit Ninja also uses OpenFeint, so players can unlock achievements and shoot for the top of the global leaderboards while racking up OpenFeint points.
Your success will also please the wise ninja Sensei, who will accompany your journey with wise words and fun fruit facts.
Fruit Ninja is the messiest and most satisfying fruit game ever!
Features:
Juicy and satisfying fruit slicing
Two Unique game modes
Combos, criticals and rare
fruit Fruit Ninja Dojo
Unlockable bonus content
Openfeint leaderboards
Addictive gameplay

Made by BlackberryRC.COM
Please donate for this theme if you like it.