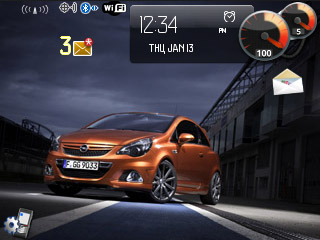 Tag:
8800 themes
8300 themes
Opel Corsa
Overview :
Opel Corsa - Mexico Corsa Opel meriva produce, in small cars is excellent representative, the field is only 100 kilometers oil consumption per kilometer 4.5 litres, only for 119 grams of carbon dioxide emissions. A two-door and four door body types, have two kinds of four kinds of gasoline engines (liter three cylinders machine and 1.2 litres, 1.4 litres, 1.6 liters 4 cylinder machine), 2 kinds of diesel engine for choice. Due to the carriage capacious, configuration is perfect, in 2007, the sales of Corsa 79000 in Germany in Taiwan, is the highest small-car sales in Germany.



Opel Corsa for blackberry 83,87,88xx themes free download
Model:
Blackberry 83XX Series (320*240) Curve Devices Models: 8300, 8310, 8320, 8330 / Blackberry 87XX Series (320*240) Devices Models: 8700c, 8700r, 8700f, 8700g, 8703e, 8707, 8707g, 8707v .etc /Blackberry 88XX Series (320*240) Devices Models: 8800, 8820, 8830 .etc
Made by BlackberryRC.COM
Please donate for this theme if you like it.