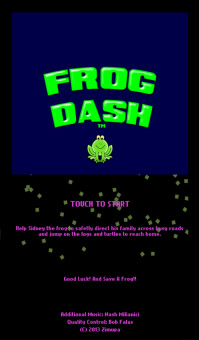 Tag:
Frog Dash
Overview :
free Frog Dash v1.0 for blackberry playbook games
File Size: 3 MB
Required Device Software Tablet: 2.0.0 or higher

Description:
Play a classic Frogger arcade game from the 1980's!! Frog Dash has awesome retro graphics and sound effects. It's fun to play and just so awesome. Relive the good old days of playing on arcade machines with Frog Dash.
Can you cross the highway with crazy drivers and jump on the turtles and logs to reach home?
* Complete with 10 Levels of play
* Original based sound effects and music.
* Arcade console with push buttons
Visit http://www.frog-dash.com and play for free online