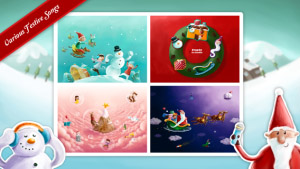 Tag:
Jolly Jingle
Overview :
File Size: 28001 KB
Required Device Software:
Tablet: 1.0.0 or higher

Description:
♪ Kids will love learning Christmas carols with this festive app.
♪ Sing-along lyrics.
♪ Animated Christmas characters.
The whole family will delight in the merriment of Jolly Jingle, a fun and innovated app that teaches kids Christmas carols. Vibrant illustrations and effortless navigation guarantee hours of gleeful entertainment. Step into a sparkling Christmas wonderland by clicking on magical objects that guide youngsters through a soundtrack of uplifting holiday music.
♥ "May the song of Christmas be music to your ears. A symphony of love that resounds throughout the year." ~ Joy Bell
What fun it is to laugh and sing a sleighing song tonight! Kids are greeted by a colorful snow globe containing an assortment of cheerful Christmas icons, each representing a beloved Yuletide melody. Simply touch the snow globe to change the object inside then press the musical note at the base to bring a classic carol to life.
All song pages include:
♪ Vocals performed by kids.
♪ Lyrics at the top of the page.
♪ Bright illustrations.
♪ Interactive gameplay with animated Christmas objects.
♪ Each song comes with four variations
♪ Instrumental version includes : Piano, Cello, Country, Samba, Music Box.
♪ Total of 21 tracks inside the game.

Jolly Jingle is designed to get as many friends and family members joining in at once, which creates an amazing and happy atmosphere! As children thumpety thump thump their way through the music, reading comprehension and spelling also improve.
Join Santa, Rudolph, and Frosty on an enchanting and harmonious Christmas adventure.
Festive songs include:
♪ Jingle Bells
♪ Rudolph the Red-Nosed Reindeer
♪ Frosty the Snowman
♪ Up on the Housetop
♪ We Wish You a Merry Christmas
Features:
* Designed for kids age 4+.
* Easy-to-use intuitive navigation.
* Kids can learn Christmas carols at their own pace.
* Move smoothly back and forth between songs.
* Children interact with their favorite Christmas characters and toys.
* Siblings and friends can sing along together.
* Provides amusement for kids in the backseat of the car or on wintry afternoons indoors.
* Exciting surprises revealed with every click!
*** We have some great freebies on our social media pages. You can get some cute and educational printable toys for your kids in our facebook page, for FREE! ***
http://facebook.com/hompimplay
http://twitter.com/hompimplay