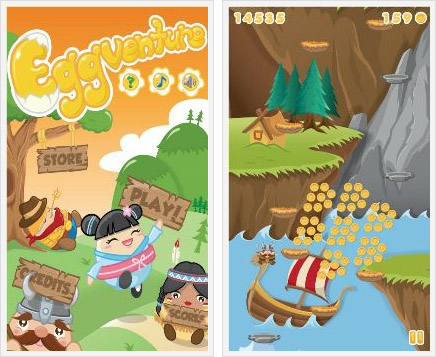 Tag:
PlayBook
Eggventure
Overview :
File Size: 12246 KB
Required Device Software:
Tablet: 2.0.1 or higher

Description:
Let the Eggventure begin!
Eggventure is a super addictive tilt controlled jumping game with cute graphics and fantastic characters.
Tilt controls are even more accurate than Doodle Jump!
Collect coins and upgrade your superpowers! Unlock new characters, grab crazy powerups, and evade traps to boost yourself to the edge of the Universe and beyond!
Six cute egglings, each with unique power-ups and backgrounds.
Many upgradeable power-ups like jetpacks, tiny wings, coin magnets.
Compete with players from all over the world on global scoreboard. Review daily, weekly and all time scores. Be the best, and have your name on the board!
Boost your powers even more and unlock characters with in-app purchases.
Checkout our website and teaser video at:
http://www.eggventure.net
Social:
http://twitter.com/eggventures
http://facebook.com/eggventure