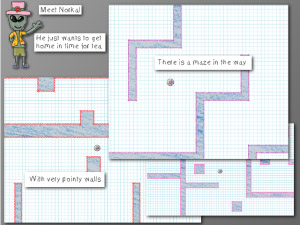 Tag:
Doom
Norkals Spac
Overview :
Norkals Space Maze of DOOM v1.0.3 for playbook games
Required Device Software:
Tablet: 2.0.0 or higher

Description:
A fun space (duh) maze (double duh) game (triple duh) with a totally new game play interaction and an abundance of exciting features.
What this game won't do:
* Solve world hunger.
* Bring water to Africa.
* Bring peace on Earth, or to the Middle East, or for that matter to Utah
It might bring peace to your house, but probably not for long.
It's just a fun game!!!
Why you should play this game:
* Over 60 unique and terrifying (well mildly scary) levels.
* Over 20 unique and terrifying (well challenging) villains and obstacles.
* A totally new and unique way to play. Trust us, we looked,
and could not find any other games like this,
strange don't you think?
* Did we mention it's fun?
* No talking farm animals, unless you count rabbits,
in which case there are a couple.
* The best sound effects ever.
* No birds were angered in the making of this game,
although there are a couple of very irritated robots.