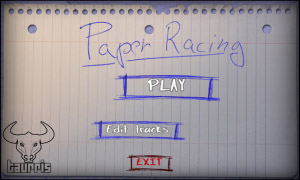 Tag:
F1 Paper Rac
Overview :
Here is another example of a game that is available for Android and now the Blackberry playbook with an iOS version as well (in the future). I like to think the tools that BlackBerry is currently offering to developers help bring these games from Android to the PlayBook ahead of the iOS platform and with the current BBJam10 on the road lets hope developers start bringing original games/apps to the PlayBook first.
The free version does not have great reviews, but I actually see some potential for this game, and enjoyed playing the free version.
Everything set in a nicely stylized graphics. The game features hot seat multiplayer of up to 4 players.
There is even a Track Editor, where you can edit, create, delete original or your own tracks with simply drawing the map on your device.

Required Device Software:
Tablet: 2.0.0 or higher
Description:
Have you ever played F1 formula on a paper with your own custom map editor ? Now you can !
Play it on your Android, create your own Tracks and play them with your friends with up to 4 players multiplayer.
* 1-4 players
* Track editor
* stylized graphics
* simple controls