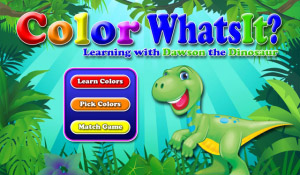 Tag:
Color
WhatsIt
Overview :
Color WhatsIt v1.1.0 for playbook games
Required Device Software:
Tablet: 2.0.0 or higher
Description:
Parents gather your pre-schoolers and toddlers and learn along with Dawson the Dinosaur as he teaches them about colors. Color WhatsIt? is an interactive application that allows children to learn colors. The application takes the child through three stages of learning from Dawson the Dinosaur teaching them each color to testing their knowledge to a color matching game. Your child can now learn along with the cute and cuddly Dawson the Dinosaur.
Features:
* Learn Colors - Click through 12 different colors and hear Dawson the Dinosaur tell the child what the color is and some objects that are that color.
* Pick Colors - Test the child's knowledge of colors as Dawson the Dinosaur names a color and allows the child to pick the matching color.
* Match Game - A card matching game that allows the child to match the colors as they flip over the dinosaur cards.