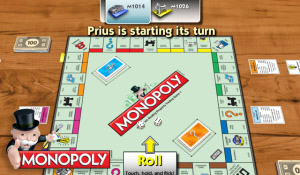 Tag:
PlayBook
MONOPOLY
Overview :
MONOPOLY 1.0.63 for BlackBerry PlayBook (On Sale)
Required Device Software:
Tablet: 1.0.0 or higher



Description:
NOW IT'S "GO" TIME ON BlackBerry® PlayBook™!
Play the game you know and love in an ALL-NEW VERSION fully designed for sleek and fast fun. From Mediterranean and Baltic to Boardwalk and beyond, enjoy new ways to play with friends – or friendly computer opponents! Check out Tabletop mode for an immersive, interactive equivalent of the original board game and Teacher mode with helpful hints and tips that will improve your strategy. You can even customize your Game Rules!
Jump right into gameplay with up to 3 other players in Play Now mode. Or take on in-game computer opponents featuring 4 levels of difficulty.
Now you can really own it all on BlackBerry® PlayBook™!