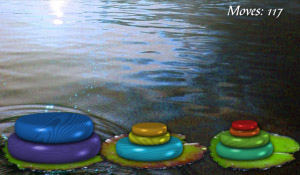 Tag:
PlayBook
Tower of Han
Overview :
free Tower of Hanoi v1.0.0 for blackberry playbook games
Required Device Software:
Tablet: 1.0.0 or higher

Description:
There is a legend surrounding this puzzle which states that when ancient priests finish moving 64 golden disks to their proper destination, the world will end! You only have to deal with 5-9 disks in this version but how long will it take you?
*TIP: The interface has been optimized for touch. You do not need to touch the exact disk to pick it up, touching/releasing anywhere on or over the the desired stack will pickup/release the the proper disk making it much easier to use with your fingers.
Enjoy.