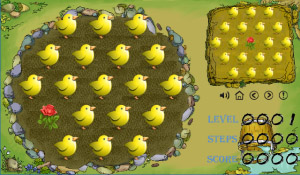 Tag:
PlayBook
Summer
Garden
Overview :
free Summer Garden v1.2.3 for playbook games
Required Device Software
Tablet: 1.0.0 or higher

Description:
Summer Garden Free Version for BlackBerry® PlayBook™ is FREE trial version of Summer Garden full version on BlackBerry App World.
Summer Garden for BlackBerry® PlayBook™ is a brainpower game.
There are two icons sets: large one with 19 icons for player to rotate and small one with 19 icons for target pattern. Player should rotate large one to the same pattern as small one. Then player will win one level. There are totally 50 levels in this game. The degree of difficulty increases when the level number becomes larger. The less steps used to complete one level, the more score you get. You can click some icon to rotate the circle around him in clockwise or just sweep your finger across two or more icons in some circle to rotate it in clockwise or counterclockwise.
Free version has only 5 levels. If you want to play all full 50 levels, please get full version by searching Summer Garden in BlackBerry App World.
By the way, Summer Garden also has one version for BlackBerry® phones. You can get it from www.joege.com or visit BlackBerry® App World™.
--------------------------------------------
Contact information:
Web: http://www.joege.com
Author: Joe Ge (geyijun@gmail.com)
Twitter: @joegege