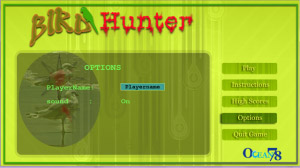 Tag:
PlayBook
Bird Hunter
Overview :
Bird Hunter v1.0 For BlackBerry Playbook Game
Required Device Software
1.0.0 or higher

Description
*Fun for all ages! Keep those fingers ready, because you have birds to hunt.
*Watch as birds fly from one tree to another. Tap them to knock them down and earn points, but be careful, you don't want to harm the white doves!
*A great time for the entire family. Test your speed, reflexes and hand-eye coordination all while having an amazing time "hunting" birds.
*Ages 5 to 105 will enjoy this edge of your seat game. Great to play when waiting in line, have spare time, or just feel like playing.
*Advance through the levels as each level gets darker, and the birds fly faster, but be sure not to harm the dove, or your game will come to an end. You also don't want to miss 3 birds in a row or you will be forced to start over.
*Test your skills and enjoy a great time!
*Are you ready for the challenge?