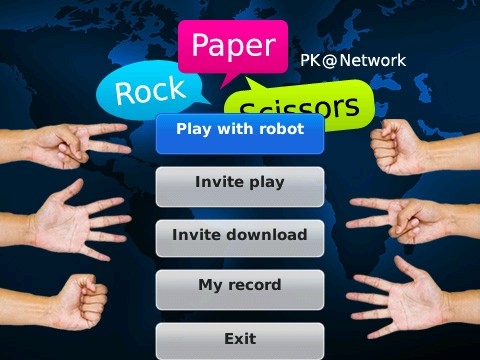 Tag:
PlayBook
Scissors
Rock Paper
Overview :
Rock Paper Scissors - BBM edition for playbook
Required Device Software
1.0.0 or higher

Description
***ONLINE Rock Paper Scissors***, now comes with BBM edition.
Tips: This version is for BBM, it will not replace the previous version when you download. If you like the game online via Internet, please do not uninstall the previous one, you could still enjoy it; if you like to play on BBM, just try this one. :)
The most classic game "Rock Paper Scissors" now on PlayBook & BlackBerry Smartphones. And now it comes with BBM, You could play this popular game with your friend on BBM or strangers online anytime, anywhere! Log in and invite someone to compete with you no matter where is He/She! More people, more fun!
Have a different idea with your boy/girl faraway? Why not use "Rock Paper Scissors online" to decide? :)
Features:
1. Developed with BBM, the network connection is more stronger;
2. For Playbook, development is based on Webworks, very smooth;
3. Really online game, easy to played and open for every one;
4. Support BBM and multi-platform;
Tips: For playbook, have to use the online version to play, because the BBM only supports BlackBerry smart phones right now.
Guarantee satisfaction:
If you find a bug or have a feedback, kindly write email to us, we can assist you well or provide revision asap, and a bonus free theme as well. Be so kind that don't leave a malicious comment at the reviews, because we could not reply comments at App World Reviews.