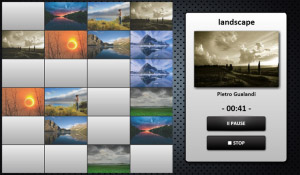 Tag:
BlackOut
playbook gam
Overview :
free BlackOut v3.0.0 playbook games
Required Device Software
1.0.0 or higher
Description
BlackOut is a memory game specially designed and developed in Adobe AIR 2.7 for the BlackBerry® PlayBook™. It's a memory game with NO built-in themes and cards, because it's up to the player to define in which theme the cards should be displayed. BlackOut uses the public web albums API of Picasa to download randomly the pictures of your choice. While you are playing, time is ticking away... Will you be in the top 100 highscore of BlackOut? Try it with BlackOut - Memory on BlackBerry® PlayBook™! Oh, and if you are on Twitter, you can challenge others, and be challenged by others on the same theme. It's up to you to defend your ranking in the global highscore table. Enjoy!
************ UPDATE VERSION 3.0 ************
1. Bug fixes:
- Continue on enter works now on every step
- Images are preloaded before play starts (no more gray images)
- Improved algoritm to avoid doubles in the images
- Speed improvements: compiled in AIR 2.7
- Full images instead of cropped ones.
- Resolved some minor issues
2. Extra features
- Twitter integration: authorize on Twitter via BlackOut and play against your followers.
- 3 levels of difficulty (easy, medium, hard)
- Pause button during the game!!
- Checking WI-FI status before start
- Worldwide top 100 highscore table per difficulty level
- Possibility to beat someone else's highscores
- Tweet you highscore, challenge your followers to play the same theme
- Preview of large image when double is found + author credits
- New design of the gameplay, smoother transition of the cards.
For more information visit http://blackout.lmnts.be/playbook/ or follow us on Twitter