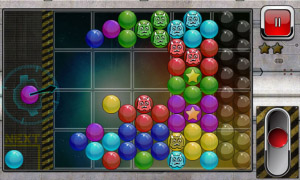 Tag:
BubbleMech
Overview :
free BubbleMech Lite v1.0.12 playbook games

Required Device Software: 1.0.0 or higher
Details:
BubbleMech is an evolution of the classic bubble-shooter style of puzzle game, for the BlackBerry PlayBook.
An alien bug infestation is spreading through the ship's bubble supply. Stop the outbreak by bursting all the infected bubbles on each level. To burst bubbles, shoot them into clusters of 3 or more of the same color.
Hurry though! The bugs are spreading quickly and more bubbles are pouring in.
BubbleMech Lite features:
• 20 specially designed levels
• power-ups
• bonus star achievements
• a one-touch control system that makes aiming and shooting as simple as possible
• a tutorial to get you started
If you like Puzzle Bobble and Bust-A-Move then you will be right at home with BubbleMech.
Lookout for the full version of BubbleMech, coming in May 2011.