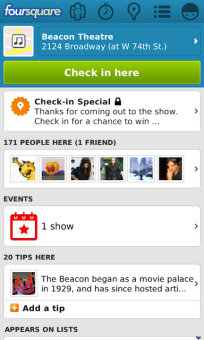 Tag:
BB 10
FourSquare
Overview :
Foursquare launched the latest version 10.0.0.2877 for BlackBerry 10 , if you have the mobile phone of BlackBerry 10 , so might as well go to the official application mall to download the update it.

Update feature:
• new location interface - when you click on a place like some comments, address, menu, telephone and other important information will be displayed in the top.
• easily share - let your BlackBerry 10 light touch another BlackBerry 10 mobile phone, share everything you saw.
• Upgrade Personal data and photos.
• A large number of repair,a small UI changes.