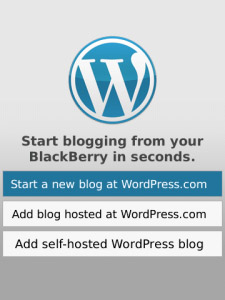 Tag:
8980 apps
WordPress
Overview :
WordPress v1.6.0 beta2 for OS 4.5-4.6
1.6.0 beta2 update:
• fix some bug of QuickPhoto;
• QuickPhoto run on OS 5.0 + devices;
• Add some of the commonly used shortcut keys;
• Fixed interface display bug;
• improve the effect of the WordPress mobile browsing;
• add a new icon.

size: 1.07 MB
model: Pearl 8100, Pearl 8110, Pearl 8120, Pearl 8130, Pearl Flip 8220, Pearl Flip 8230, Curve 8300, Curve 8310, Curve 8320, Curve 8330, Curve 8350i, Curve 8520, Curve 8530, 8700, 8707, 8800, 8820, 8830, Curve 8900, Curve 8910, Curve 8980, Bold 9000

Description:
The all new WordPress for BlackBerry app allows you to write posts, upload photos and videos, edit pages, and manage comments. Both WordPress.com and self-hosted WordPress (2.9.2 or higher) sites are supported. Download the app and start blogging on the go in no time.
For support, please visit: http://blackberry.forums.wordpress.org/
NOTE: If you experience problems after the upgrade, please look at the FAQ: http://blackberry.wordpress.org/faq/

If you like the app, Please share to your friends!