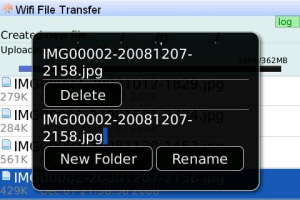 Tag:
Transfer
Wifi File
Overview :
Wifi File Transfer v1.0.0.4 for blackberry apps
OS 4.5,4.6,4.7,5.0,6.0,7.0
Model: Pearl 8100, Pearl 8110, Pearl 8120, Pearl 8130, Pearl Flip 8220, Pearl Flip 8230, Pearl 9100 3G, Pearl 9105 3G, Curve 8300, Curve 8310, Curve 8320, Curve 8330, Curve 8350i, Curve 8520, Curve 8530, 8700, 8707, 8800, 8820, 8830, Curve 8900, Curve 8910, Curve 8980, Bold 9000, Curve 9300 3G, Curve 9330 3G, Tour 9630, Bold 9650, Style 9670, Bold 9700, Bold 9780, Bold 9788, Curve 9350, Curve 9360, Curve 9370, Storm 9500/9530, Storm2 9550/9520, Torch 9850/9860, Torch 9800, Torch 2 9810, Bold 9900/9930

Description:
*No. 1 Paid Business App Celebration Half Price Sale!*
Transfer any file between PC/Mac - BB at WiFi speeds!
I couldn't believe how amazingly easy WiFi File Transfer was to use ... I was equally impressed with the speed the transfers seemed to possess. I was also able to effortlessly create and manage new folders from my BlackBerry and from my computer.
- CrackBerry.com
..great solution that I am surprised nobody thought of before. It simply lets you browse your BlackBerrys file system over Wi-Fi and copy, paste, add, remove and rename files back and forth just using your computers browser. This essentially means you do not need media manager and desktop manager just to copy a new MP3. ... pretty slick!
- BerryReview.com
Transfer files directly between your BlackBerry and any PC or Mac on the same WiFi network - all through your PC/Mac web browser.
No need for Desktop Manager, Media Manager, USB drivers or any other 3rd party applications: Just a BlackBerry, PC/Mac with browser and a WiFi network.
Features:
- View the BlackBerry file system from the browser and transfer any file to and from device internal memory or SD card. Turn your BlackBerry into a wireless memory stick!
- Upload movies, pictures and music directly to your device and view them with the BlackBerry device Media Player.
- View and play pictures, videos, music, PDF files etc. stored on your BlackBerry straight from the browser.
- Browse, rename, delete, and create new folders on the BlackBerry from either the browser or the device application itself.
Setup:
- Make sure your device and PC or Mac are on the same WiFi network.
- Start Wifi File Transfer on the device. An IP address will be shown.
- Type this IP address into the PC or Mac browser and start browsing your BlackBerry! Upload and download files directly from the browser.
Please remember to write a review :)