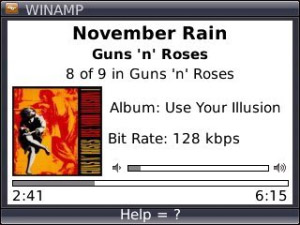 Tag:
WiFi
Remote
Vectir
Control
Overview :
Vectir WiFi Remote Control v1.4.7 for blackberry apps
OS 4.6, 4.7, 5.0, 6.0, 7.0
Model: Pearl 8100, Pearl 8110, Pearl 8120, Pearl 8130, Pearl Flip 8220, Pearl Flip 8230, Pearl 9100 3G, Pearl 9105 3G, Curve 8300, Curve 8310, Curve 8320, Curve 8330, Curve 8350i, Curve 8520, Curve 8530, 8700, 8707, 8800, 8820, 8830, Curve 8900, Curve 8910, Curve 8980, Bold 9000, Curve 9300 3G, Curve 9330 3G, Tour 9630, Bold 9650, Style 9670, Bold 9700, Bold 9780, Bold 9788, Curve 9350, Curve 9360, Curve 9370, Storm 9500/9530, Storm2 9550/9520, Torch 9850/9860, Torch 9800, Torch 2 9810, Bold 9900/9930

Description:
Vectir WiFi Remote Control turns your BlackBerry® into a powerful remote control for your PC. Control popular media players such as iTunes, Winamp and Windows Media Player, browse and open files on your hard drive, use your BlackBerry as a wireless keyboard, adjust your PC's master volume and control your mouse. Also add custom remote control support for any application of your choice.
Features:
- WiFi connection
- Control media player volume, play/pause, stop, next track and previous track commands
- View live playback information such as track time, song/artist/album names
- Browse iTunes, Winamp and Windows Media Player playlists, media libraries and select tracks
- Browse your PC's hard drive and open files
- View and control your PC's desktop with the remote desktop feature
- Use your BlackBerry as a wireless keyboard
- Control your PC's mouse with your BlackBerry's trackpad
- Remote logoff and shutdown commands
- Remote profile visual designer and keyboard macro commands for adding custom application support
Supported applications:
- Full remote control support included for iTunes, Winamp, Windows Media Player and PowerPoint
- Keyboard macro remote control profiles included for VLC, Windows Media Center, BSPlayer and DivX Player
- Add support for any other application with the remote profile visual designer and keyboard macro commands
Requirements:
- A BlackBerry smartphone that supports WiFi
- A PC connected to the same TCP/IP network as your BlackBerry is over WiFi
- Vectir server software installed on your PC (available from vectir.com)
Price:
The Vectir WiFi Remote Control client application for your phone is free to install and use. The Vectir PC server software is free to use for 30 days after which a license must be purchased for $14.95 USD.