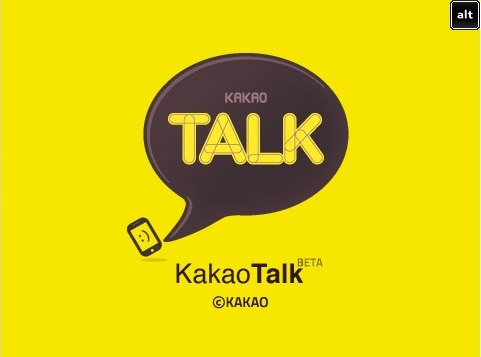 Tag:
Kakao Talk
Overview :
The Kakao Talk v1.0 (os5.0-6.0) is carefully selected by BlackberryRC.com, Hope you will like it. It is suitable for OS 5.0.0 - 6.0.0 series.

Required Device Software
5.0.0 - 6.0.0
Supported devices:
Blackberry 85xx, 89xx, 90xx, 91xx, 93xx, 95xx, 96xx, 97xx, 98xx

KakaoTalk is a phone number based mobile messenger service that allows blackberry , iPhone , android users anywhere in the world to chat 1:1 or in a group for free.

Features:
Local Language Support in English, Spanish, Japanese and Korean
KakaoTalk is currently available in English, Spanish, Japanese and Korean.
Finding a Friend with Name
You can find your friends by searching their names in Friends menu.
Registering Favorite Friends
You can register favorite friends so that you can easily locate them in Friends menu.
Group Chatting with As Many Friends You Want
KakaoTalk allows you to enjoy not only one-to-one chats but also group chats.
Sharing Multimedia
Texting is only a start! You can send, view and share pictures and videos that you select from your existing album or right after taking them. You can also send contact numbers at your phone address book.
Finding Chat Friends Automatically
You do not need to manually register your friends to chat as KakaoTalk finds and registers them automatically using phone numbers at your contacts.
Finding Friends with KakaoTalk IDs
Even if you do not know your friends' phone numbers, you can add them to your Friends List by just knowing their IDs.
Adding a Friend While Chatting.
You can add a friend to your Friends List while group chatting with him or her.
Viewing Friend's Mini Profile
Clicking a friend's mini profile, you can view his photo and status message, put him on your favorites list, chat 1:1, or call him
Privacy Protection with Lock
You can protect your personal information by setting Lock. If you set Lock, you are asked to type in a password whenever you activate KakaoTalk.
Custom Chat Room Background Image
You can use a selected picture as a chat room background image. A picture can be taken or can be chosen from your existing album.
Exporting and Importing Friends List
You can save your Friends List as a file and export it to your email account. You can also import and add such Friends List to the current Friends List. By doing so, you can safely keep and import your precious Friends List even when you change your phone number or your mobile device.
Sending Chatting Contents to an Email Account
You can safely keep as a file all of your chatting records including pictures and videos.