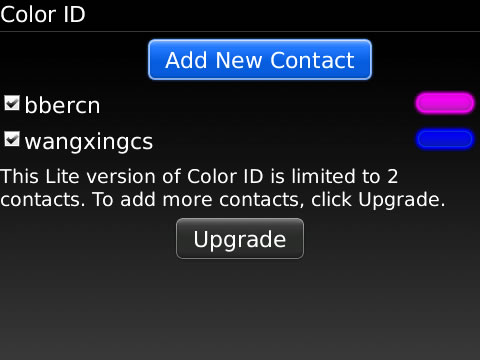 Tag:
Color ID
Overview :
free Color ID v1.2 Lite for blackberry apps download
Description:
Know at a glance who's contacting you! Assign custom LED colors to SPECIFIC CONTACTS for Email, SMS & Phone Calls! (We know you guys want BBM too but RIM won't let us do it for SPECIFIC contacts at this time...hopefully soon!)
* This Lite & Free version ALLOWS ONLY 2 CONTACTS for specific colors - if you want more please purchase full version
* Syncing w Address Book is easy! Go into ur Contacts list, highlite the contact u want to add and hit the BB menu button - select "Add to Color ID" and ur set!
* You MUST grant Color ID Permissions when you run Color ID! It's safe to grant these permissions or app WILL NOT WORK!
* New apps require a battery pull after installation, just like your PC/MAC!
* If u upgrade to full version, u will need to DELETE the Lite version and do a battery pull after install to get it 2 work properly!
* Contact us if u have any questions or issues before leaving a review! We can't see ur info in Reviews, so can't help u if u leave questions there! Email support@motekmobile.com! We have had over 2,000,000 downloads of this app & it works on all handsets with the right OS! Web support: http://support.motekmobile.com/wiki/index.php/ColorID has most of ur questions answered!
Model:
Blackberry 82XX Series (240x320) Pearl Flip Devices Models: 8200, 8220, 8230/Blackberry 8350i (320*240) Related Devices Model: 8500, 8520, 8530/Blackberry 83XX Series (320*240) Curve Devices Models: 8300, 8310, 8320, 8330 / Blackberry 87XX Series (320*240) Devices Models: 8700c, 8700r, 8700f, 8700g, 8703e, 8707, 8707g, 8707v .etc /Blackberry 88XX Series (320*240) Devices Models: 8800, 8820, 8830 .etc /Blackberry 89XX Curve Series (480*360): 8900(Javelin), 8910(Atlas)/Blackberry 90XX Bold (Onyx) Series (480*320) Devices Models: 9000, 9020(Onyx)/Blackberry 96XX Tour (Niagara) Series (480*360):9600, 9630, 9650(Tour2), 9700(Bold2) /Blackberry 95XX Storm Series (360*480):9500, 9510, 9520, 9530, 9550(Storm2)/Blackberry Pearl 3G Series (360*400) Devices Models: 9100, 9105