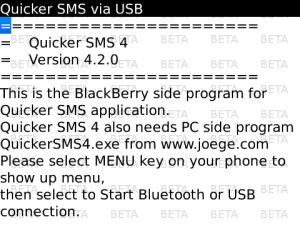 Tag:
Quicker SMS
Overview :
free Quicker SMS apps for blackberry
Description:
Quicker SMS allows you to send group SMS on your PC to your friends. You can type SMS on your keyboard quicker than doing it on your BlackBerry® phone. Especially, it is very useful when you want to invite your friends through SMS. It is an effective tool to improve your efficiency and save your time.
It is also a useful tool when you work beside your PC every day.
Typing on a PC keyboard is definitely quicker than on phone s keyboard.
Now Quicker SMS 4 supports both USB cable and Bluetooth connections. You can also attach more than one phones with Quicker SMS 4 to get quicker outgoing sms speed.
Quicker SMS can receive new SMS from your BlackBerry® phone whenever the phone is connected with it. You can save SMS from your friends on the disk permanently and forward to others easily. It supports importing all contacts in your BlackBerry® phone. So you can select contacts quickly when you want to send SMS. When new SMS is coming, it will be showed on the main screen of the phone.
Quicker SMS is composed of two programs: QuickerSMS4.exe - PC side program and QuickerSMS4.cod - application on BlackBerry®.
You can OTA install QuickerSMS4.cod and download QuickerSMS4.exe into your PC on author s website http://www.joege.com/
Features:
Send group sms easily to many friends from your address book by one click on your PC.
Show new SMS notification dialog on PC desktop from your BlackBerry® phone when it connects with Quicker SMS.
When new SMS is coming, phone number and its name if phone number is in your contacts and full SMS content will be showed in notification dialog.
Import all contacts information from your BlackBerry® address book.
Support ASCII and UCS-2 SMS.
Support dividing long SMS into standard length and send them one by one.
Support long SMS as your BlackBerry® phone.
Requirements:
BlackBerry®: OS4.2 or above, nearly every BlackBerry® phones.
PC: Windows 2000/XP/Vista and above.
Connection: USB cable / Bluetooth.
Model:
Blackberry 82XX Series (240*320) Pearl Flip Devices Models: 8200, 8220, 8230/Blackberry 8350i (320*240) Related Devices Model: 8500, 8520, 8530, 9300(Kepler), 9330/Blackberry 83XX Series (320*240) Curve Devices Models: 8300, 8310, 8320, 8330 / Blackberry 87XX Series (320*240) Devices Models: 8700c, 8700r, 8700f, 8700g, 8703e, 8707, 8707g, 8707v .etc /Blackberry 88XX Series (320*240) Devices Models: 8800, 8820, 8830 .etc /Blackberry 89XX Curve Series (480*360): 8900(Javelin), 8910(Atlas), 8930, 8950, 8980/Blackberry 90XX Bold (Onyx) Series (480*320) Devices Models: 9000, 9020(Onyx)/Blackberry 96XX Tour (Niagara) Series (480*360):9600, 9630, 9650(Tour2), 9700(Bold2), 9780 /Blackberry 95XX Storm Series (360*480):9500, 9510, 9520, 9530, 9550(Storm2), 9570(Storm3), 9800(Torch)/Blackberry Pearl 3G Series (360*400) Devices Models: 9100, 9105, 9670(Style)