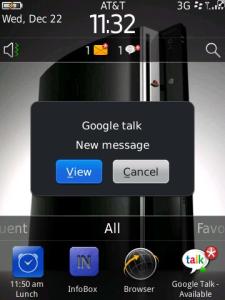 Tag:
InfoBox
Notification
Overview :
InfoBox: All-In-One Messeage Notifications v1.1
Description:
When New Email, SMS, BBM, Gtalk and other messages arrives, InfoBox will notify you with a pop-up screen.
You can view the message with a single click on the View button.
After view or replay, you can go back to your previous app with a single click on the back key.
Choose the notifications you need in the setting.
Option for new messages open directly on home screen.
Support the notifications for
Email
SMS
BBM
PIN
Gtalk
Facebook
Twitter
Social feeds
Windows Live Messenger
Whatsapp
Model:
Blackberry 82XX Series (240*320) Pearl Flip Devices Models: 8200, 8220, 8230/Blackberry 8350i (320*240) Related Devices Model: 8500, 8520, 8530, 9300(Kepler), 9330/Blackberry 83XX Series (320*240) Curve Devices Models: 8300, 8310, 8320, 8330 / Blackberry 87XX Series (320*240) Devices Models: 8700c, 8700r, 8700f, 8700g, 8703e, 8707, 8707g, 8707v .etc /Blackberry 88XX Series (320*240) Devices Models: 8800, 8820, 8830 .etc /Blackberry 89XX Curve Series (480*360): 8900(Javelin), 8910(Atlas), 8930, 8950, 8980/Blackberry 90XX Bold (Onyx) Series (480*320) Devices Models: 9000, 9020(Onyx)/Blackberry 96XX Tour (Niagara) Series (480*360):9600, 9630, 9650(Tour2), 9700(Bold2), 9780 /Blackberry 95XX Storm Series (360*480):9500, 9510, 9520, 9530, 9550(Storm2), 9570(Storm3), 9800(Torch)/Blackberry Pearl 3G Series (360*400) Devices Models: 9100, 9105, 9670(Style)