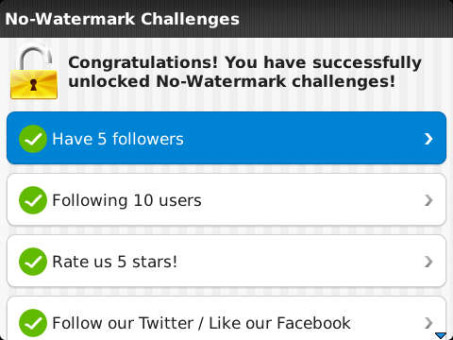 Tag:
PicMix
Overview :
PicMix 5.0 ( blackberry os5 to os7 apps) - Download the newest PicMix 5.0 now and get a new experiences on editing and sharing your photos!

Version: 5.0
File Size: 3.14 MB
Required: 5.0.0 or higher
model: Pearl 9100 3G, Pearl 9105 3G, Curve 8520, Curve 8530, Curve 8900, Curve 8910, Curve 8980, Bold 9000, Curve 9300 3G, Curve 9330 3G, Tour 9630, Bold 9650, Style 9670, Bold 9700, Bold 9780, Bold 9788, Curve 9350, Curve 9360, Curve 9370, Storm 9500/9530, Storm2 9550/9520, Torch 9850/9860, Torch 9800, Bold 9790, Torch 2 9810, Bold 9900/9930, 9981



Please note that if you have any issues or difficulties when using PicMix, please refer to our FAQ page at http://picmix.it/faq and please send us an email to support@picmix.it if you can't find what you're looking for in the page. We will gladly help you to sort it out.
What's new in this version :
• Magic Frame
Add photos and see the magic at the blink of your eyes. PicMix will generate cool custom frames for you magically!
• Featured PicMixers
Be an active PicMixers, post an interesting creative original pic and be friendly! You will get a chance to be featured in the Popular page as the featured PicMixers!
• Stickers
Express yourself more with lot of fun and cute stickers. Place it on your pic and use it when commenting!
• Official Accounts
We list all the verified celebrities and brands so you can find them easier!
• Fun Center
Find more exciting app and game from our team right from inside PicMix app!
• Boards
Find out all useful information from us here!